Starting in 1942, the founder of the land started to plant the coconut tree and paddy fields as soon innovated to "Agro Themed Park". Kampung Agong was named by the nickname of the land founder which villagers called the founder as 'Agong'.
Walk around you can find more than 15 different sizes and shapes of bird nests which are inspired by actual weaver birds around here. Besides that, there is also a giant swing beside the paddy field accompanied by sunset in the evening. A decoy white grand wooden piano surrounded by paddy fields and hundreds of coconut trees also one of the hot instagrammable spots.
Kampung Agong also has the wisdom of traditional architecture which includes jelapang padi, rumah kampung, and so on. Furthermore, you can also stretch your legs and explore other areas in Kampung Agong such as the pond that is sprawled with water lilies. After walking around and immersing in the relaxing landscape, you can hop on the bicycle to check out different corners here.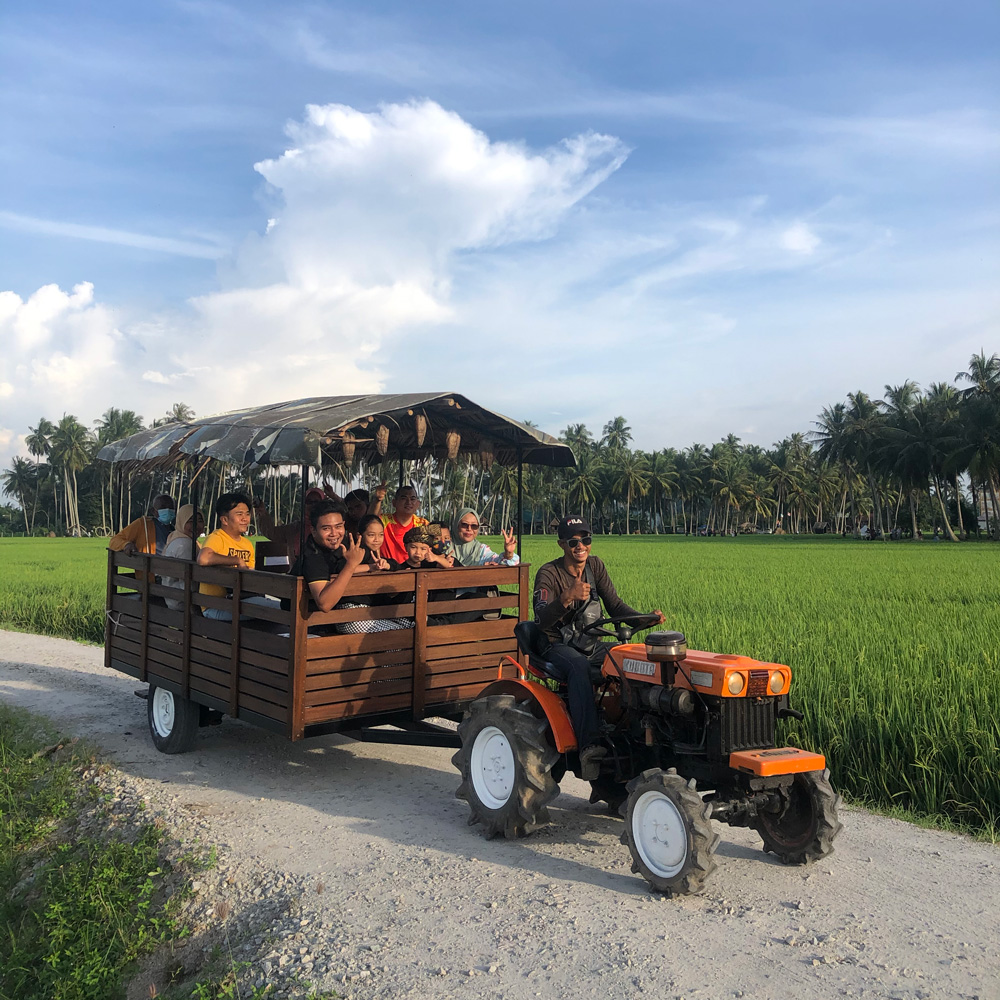 Previous Events And Activities
Kampung Agong previous events and activities listing. Our happy memory with the audience. Welcome to join our future event or activity. We are happy to serve you in future.
Event
Raya Open House (Hari Raya Rumah Terbuka) (2019)
Sports Carnival (Karnival Sukan Rakyat) (2019)
Youth Volunteer Team Building Program (2020)
Merdeka Days Celebration (2020)
Boria Cultural Heritage Art Dance Performance (2020)
Sukaneka SK Convent BM (2022)
Photoshoot
Nanyang Fashion Shoot, Collaboration with Canon Malaysia (2019)
Film Shooting Title The Journey: Our Homeland (我们的家园) (2015)
Competition
Let's Paint Together (2019)
Private Visitors
Visitor From Deputy Director General Of Agriculture Malaysia (Timbalan Ketua Pengarah Pertanian Malaysia) (2021)
Visited And Perfected By Tun Dato' Seri Utama Ahmad Fuzi bin Haji Abdul Razak (2022)
Kampung Agong is worth like to thank, Malaysia Tourism Quality Assurance gave us this awards and verification our brand.